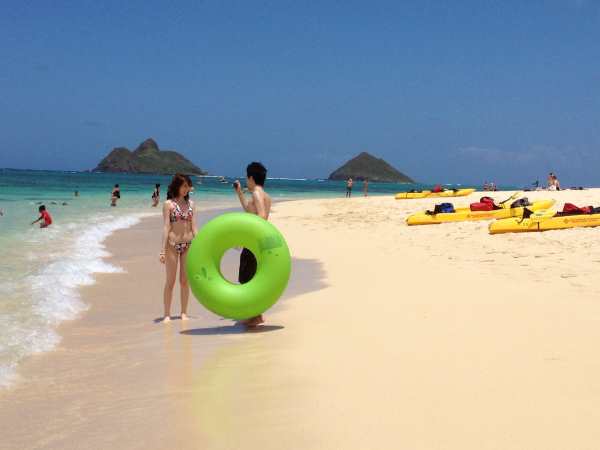 Hawaii is a popular conference destination for good reason!
Kate's first travel adventures were mostly funded by travel scholarships she received during grad school. She took 4 international trips to conferences and tacked on a vacation each time. This included our first RTW trip. She went to a conference in the US and then we took off around the world from there. The costs of the RTW tickets were hardly more than than the trip from New Zealand to where the conference was (New Orleans) would've been by itself, so most of the RTW ticket price was covered.
Here are 5 other ways you can use potentially use work perks to help fund travel.
1. Put work expenses on a credit card that earns frequent flyer miles.
Even if you're not self-employed you can sometimes pay for things yourself when you're expecting to get reimbursed by your employer. Think of your big expenses e.g., for me these are my medical protection and licensing fees, and car insurance.
2. Look to add a few days at a conference to vacations so you can deduct some of the flight expenses.
You might not want or be able to do this for every trip e.g. it might be hard to find a conference in the Cook Islands, but this point is just meant as reminder to look out for opportunities to attend conferences and claim some of your travel expenses as business expenses. For example, you might go to a conference in Finland on the way home from a trip to the UK.
If an employer (other than yourself) is paying for it, you're likely going to need to present at the conference vs. just attend.
You could also look at valid work meetings rather than conferences as a way of claiming some travel expenses. Check with your accountant of course! And, don't try to claim bogus expenses. Find conferences that are of genuine benefit.
3. Get lucrative credit card sign up bonuses as yourself and as your company.
Usually credit card signup bonuses are restricted to people who haven't already had the bonus for a similar card in the recent past. You can double dip with these by having cards in your business name and in your personal name.
The folks at the flyertalk forums are experts (they're very helpful and generous with their advice but don't expect hand holding or tutoring! Flyertalk is free. You can get the same info for free by scouring flyertalk as you could by joining paid programs offered by bloggers).
4. Triple dip.
You can triple dip and maximize your mileage earning opportunities for each flight taken by (a) putting work travel expenses on a credit card that earns frequent flyer miles, (b) earning miles for the flights taken on your personal frequent flyer account, and (c) earning points through a company travel incentive program for the same flights – chose one which is free to join and has no minimum company size or travel spend.
5. Corporate discount codes or discount codes through associations you belong to.
Through your work or associations you belong to, you may be able to access discount codes for travel related expenses e.g., corporate discount codes for hotels chains or rental car companies. If you don't have legitimate access to these, a quick google search will often turn some up (it's up to you whether you feel comfortable doing this). There will sometimes be additional discount codes or perks related to an event that's going on in a city the week you're there e.g., a code for 5% off flights that's available for people attending X. However you don't necessarily need to be attending to use the discount code!