Meet Kristin! She's doing a very cool project traveling around America eating in every single vegan restaurant in the US.
How epically delicious does that sound?
1. Please tell us about your project?
In September 2011 I hit the road on an epic journey to visit all 50 states while also attempting to dine at every 100% vegan eatery in the US. So far I've been to 46 states and eaten at more than 400 restaurants. During this time I've been living out of a renovated Chevy sports van, supported solely by donations from those who read my blog and follow along on social media. It's been a life changing journey, to say the least.
2. I'm obsessed with vegan cake. Could you share some pictures/descriptions of some of the best vegan cakes you've encountered on your travels?
Oooh, great question. Blossom in NYC has an amazing Chocolate Ganache, cake-like dessert that totally rocked my world. The Chocolate Cake from Good Karma Cafe in Red Bank, NJ will change your life, and I recently had a Strawberry Shortcake from Golden Mean in Los Angeles that made me weak in the knees. And of course, you can never go wrong with cakes and other sweets from Vegan Treats.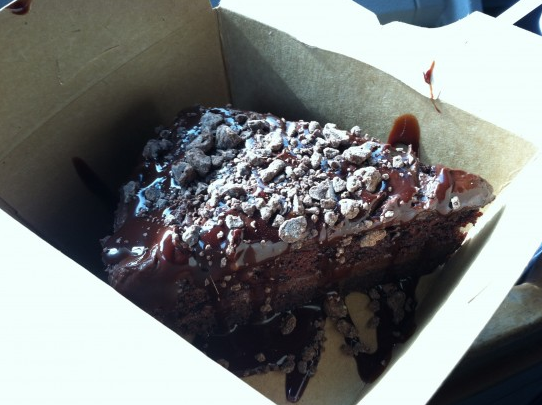 3. Best tofu scramble you've eaten?
Tofu scramble is something I rarely order because I never thought I'd find one that was better than something that could be made at home, until I tried the scramble at Vertical Diner in Salt Lake City. That place is unstoppable!

4. Cheap travel is important for many of my readers. What are some of the best cheap vegan eats you've found? For example, food trucks.
Since I aim to eat at every vegan restaurant in the country I rarely look at prices because I'll often be paying, regardless. Unfortunately I don't have any recommendations for this one.
5. My favorite vegan fast food place is Veggie Grill in LA. What's your's?
I really like Evolution in San Diego. The only other restaurant I've been to, that advertises themselves as "fast food" is Food Swings in NYC. But I might hit up Plant Food For People here in LA soon, so we'll see! :)
6. Have you eaten any dish that you didn't realize could be veganized e.g. a vegan chocolate eclair? (this is the holy grail for me!) Or, just a great vegan version of a typically non-vegan dish.
Yes.. at Happy Family III in Los Angeles I had vegan shark fin soup, vegan squab, and vegan jellyfish salad. I never even considered vegan versions of those meals, and to be honest, I've never had the animal-versions before so I had nothing to compare. But I will say that the squab dish was extremely delicious. It was served in a lettuce leaf and reminded me of a combination of Chex Mix and Bacon Bits .. but ten times better than that combo. It was unusual but great! :)
7. What are your plans for after you finish your project?
I'm going to live in NYC for a few months while finishing up the eateries there and planning the end-of-trip party, which will held in NYC sometime this spring/summer. Then I plan to settle in one place (not sure where yet) for about six months, focus on eating healthy and exercising (for once!), while also writing a book about the journey, and monetizing a couple of online-based businesses that I have in the works. After I am comfortable, monetarily speaking, I plan to take my travels international, spending time in a new country every few months. :)
Here's where to find Kristin on social media.
Website: http://wtfveganfood.com/
Instagram: @wtfveganfood
Facebook: http://www.facebook.com/wtfveganfood
Twitter: @wtfveganfood
YouTube: http://www.youtube.com/user/wtfveganfood