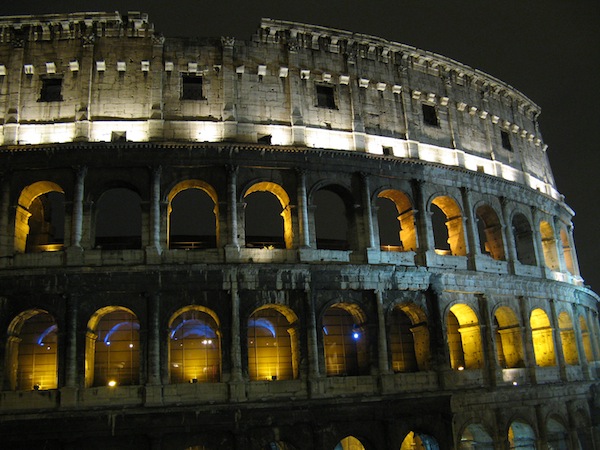 We asked Dalila Ercolani of Eating Italy Food Tours to write us a guest post about Rome for vegans.
OPS! CUCINA MEDITERRANEA
This restaurant is 100% vegetarian and almost entirely vegan. It offers an extensive buffet of vegetarian/vegan dishes, Mediterranean style. You can find anything from the soup of the day (pumpkin, legumes, cereals…), vegetarian meats, fresh salads, vegan cheeses, chickpea falafel, mushroom risotto rendered creamy with almond butter, pasta made with semolina flour, and soy nuggets. What's more they offer an array of typical Italian desserts, all vegan friendly. You can try a little Amaretto Semifreddi (an ice cream-like dessert), apple crumble and vegan cakes. The staff is young and friendly; the place modern and stylish. Definitely worth seeing! Via Bergamo, 56. Open Monday 9:30am-3:30pm, Tuesday-Sunday 9:30am-11pm.
http://opsveg.com/
REWILD CRUELTY-FREE CLUB
Why choose vegan? Because vegan products require a much smaller fraction of land and fewer resources than those necessary to produce animal products. According to Rewild Cruelty-Free Club, the choice is simple: choose vegan. Visitors get the oppurtunity to eat and drink whatever they like without having to worry about ingredients or limited choices. They offer sandwiches and wraps with vegan cold cuts, sausages and veggies burgers. Main courses (lasagna, tagliatelle, ravioli, soups and rolls), and second courses (breaded cutlets, roasts, medalions etc..) are all made with a seitan, tempeh or tofu base. You can choose between bruschetta with vegetable/tofu/organic spreads, vegan cheeses, and even shakes and puddings with vegetable milk. You won't feel like you're missing out on anything! And everything is obviously…free of animal exploitation! Via Giovannipoli, 18 (Garbatella). Open Tuesday-Sunday starting 8pm.
http://www.rewild.it/
GIUFÀ LIBRERIA CAFFÈ
This is an intimate gluten-free, vegetarian and vegan friendly bar/bookshop. Serves hot chocolates and cappuccinos made with soy milk, biological teas and infusions, and a small array of vegan desserts (try the mini wine doughnuts!). Also serves vegan and biological savoury tarts. You can aim at spending around €10. Via degli Aurunci, 38 (San Lorenzo). Open Tues-Thurs 1pm-1am, Fri-Sat 1pm-2am, Sun-Mon 3pm-12pm.
http://www.libreriagiufa.it
ALVARADO STREET
Alvarado Street is all about "expressing yourself". It was born as a way to combine the pub atmosphere with different cultural and underground scenes. Spread over two floors, Alvarado Street offers pub style vegetarian and vegan dishes, combined with everything from photographic exhibitions, literary readings, live music, and more. Alvarado Street is not primarily vegan, but is a vegan friendly pub and offers a number of dishes including vegan cannelloni, mopur and tofu sandwiches, vegan couscous and biological wine and beer. It also organizes a vegan aperitivo 1-2 times a month, at very affordable prices Via Attilio Mori, 27. Open every day 7pm-2am
http://www.alvaradostreet.net
TROPICAL ICE
For an afternoon gelato head over to Tropical Ice, a summer haven for gastronomical minorities such as vegetarians and Celiacs. The ice cream is delicious and made with all natural ingredients. You can find a number of soy flavors, including the panna (whipped cream) that goes on top! All fruit flavors, as well as the dark chocolate are completely milk free. The consistency of the ice cream is perfect, which is something not all vegan ice cream is able to achieve. They serve in both cups and cones; the former made with biodegradable material and the latter gluten-free and vegan. Via Nomentana, 115. Open Mon-Sat 10am-1am. Sun 3pm-1am.