A few days ago we drove down to Tulum from Playa del Carmen and we are spending 4 nights here. As soon as I saw the beach for the first time I could totally understand why many people elect to head straight down here from Cancun Airport as soon as they arrive. Playa Paraiso, Tulum's main beach is a stunning stretch of white sand and azure water. The water clarity is better than Playa del Carmen (PDC) and the beach frontage much less developed. The whole place seems unspoilt. I like that the noisy bar/party scene is kept in the Tulum township, some 4-5 km from the beach. The beaches south of Playa Paraiso are lovely too but there are bigger waves so Paraiso is safer. A few kms south of Paraiso is a large beach popular for kite surfing.
Highway 307, the main road which runs down the east coast from Cancun, passes through the centre of Tulum. The town has a authentic, raw vibe which I really like. There are loads of small restaurants and street stalls from which to enjoy the local cuisine. I'll elaborate on the vegan options in a another post. There are more hippies here than in PDC which is not surprising.
We are staying in a small, simple apartment at the northern end of Tulum. It came with the free use of two bikes which has been fantastic. Biking is my favourite way of exploring any new environment. I would recommend renting a bike in Tulum if it is not included with your accommodation. The beach is about 6 minutes drive or 23 minutes bike ride from town. The 2 main roads to the beach and Tulum ruins each have a cycle lane separate and alongside the road which is excellent and makes the journey much safer.
I went to the Tulum ruins yesterday. This Mayan archeological site is most famous for the stunning location of El Castillo (the "castle" which is the most prominent structure) which sits at the top of a cliff above the sea. The ruins are a few kilometres north of Tulum township so only a few minutes by car. It took me about 6 minutes by bike from our apartment.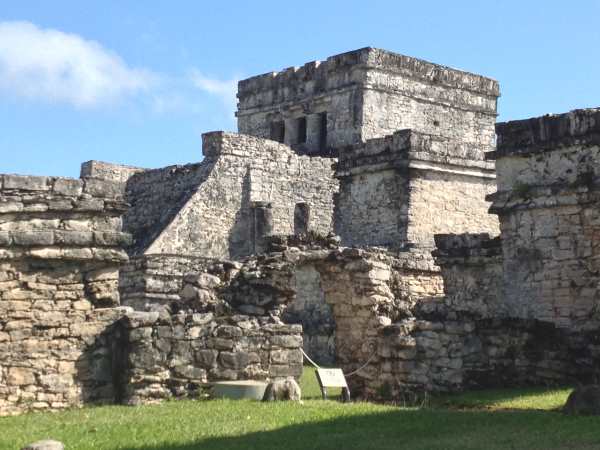 There is a fee for parking if you take a car. The car park is next to a small "town" of souvenir shops! From there you walk about 1 km to the entrance proper where you pay the entrance fee (57 Pesos). The walk is pleasant enough but I was able to ride past all the walkers and lock my bike at the entrance. Going by bike saved me a lot of time.
The ruins were totally worth the entrance fee. I regret not paying extra for a registered guide as they did sound like they were giving very insightful and interesting information. There are wooden stairways down to the beach below El Castillo if you want to go for a swim in this awesome location. Toilets ( and I presume changing rooms) are only at the entrance.
I got to the ruins at 9 am and by 10:30 it was getting very busy and more crowded. The gates open at 8 am so I would recommend going early in the day before all the tourist buses arrive from Cancun and PDC. While Tulum is a unique and incomparable experience, it can get a bit crowded. If you're aiming for a trip in Mexico that isn't as touristy, Rocky Point is a beautiful vacation destination. Not only does it feature pristine beaches, authentic food, and adventure, but the crowds are few and far between.