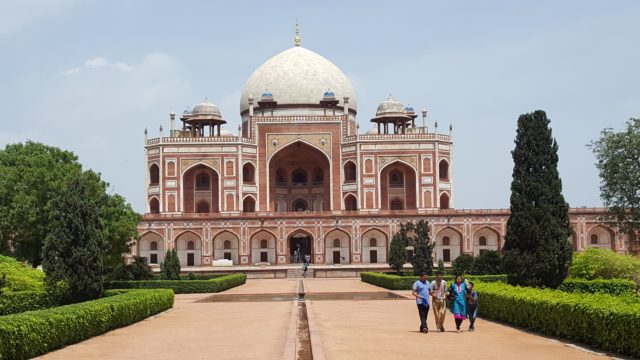 1.Don't Make India Your First Trip to Asia (Particularly if You're Female and Traveling Without a Male).
There are many travelers who fall in love with India but India can be a very full-on destination. There are numerous places in Asia that are easier for the novice traveler. Thailand in particular comes to mind. Singapore is also easy but small and a bit more expensive. Malaysia is slightly more difficult to travel in than Thailand but still easy and reasonably cheap. Once you've visited a few easy Asian destinations you might want to break out to places where English is less widely spoken but the countries are still very orderly, like Korea, and then move up to India (or China). Alternatively, you might feel ready for visiting India after visiting just a few of the easier Asian countries.
2.You have some Indian Friends Don't You?
India has a large population and there are many Indians who study and work abroad. You likely know some Indian people. Express some interest in meeting some of their friends and family back in India. This can give you an amazing cultural experience, beyond the tourist sites.
3. Don't go on a shoestring budget.
You can almost ignore some of the other advice in this post if you plan on spending a little more money. If you plan on the same sort of daily budget you'd have for travel in places like America, you can have a grand time in India and be somewhat insulated from any hassles you might experience in India. Nicer hotels are an excellent respite at the end of the day, and there many that have an opulent colonial feel (e.g. Taj Palace Delhi) rather than being generic Western chains. With a higher budget, you can take Uber, fly instead of long train rides, and eat in clean restaurants.
4. Consider the weather.
You'll have the most pleasant time in India if you don't go when it's sweltering hot. India is a big country so Google the climate for all the places you'd like to visit. Different regions have widely different micro climates.
5. Don't attempt to do everything.
India is huge geographically and there can be issues with traffic etc that get in the way of how much you can see in a day. You won't have such a good time if you're exhausted. Also, the food is one of the best things about India, so you'll want to allow plenty of time for eating, rather than always needing to eat on the run or at 4am because you're taking an early flight or train, trying to pack everything in. You'll get less stressed out if you're not rushing and tired. Have a good time so you'll want to go back for another trip! Ideally you should initially go for a couple of weeks only and visit only a few regions (e.g Jaipur, New Delhi and Agra) on your first trip. That way you'll learn about how you like to travel in this country, how fast you like to move around etc. You can then plan your future trips based on what you've learned about your personal preferences for how and what you want to see in India. You'll also have the confidence to venture to some amazing places that are a little off the well beaten tourist path.
Photo by Jiri Moonen on Unsplash