1. Please tell us about the house you're renting, the location, when and how long you rented it for.
My house is an amazing standalone vacation home located in the village of West End of the island of Roatan, Bay Islands, Honduras. The village consists of a one mile long road along the beach with shops, restaurants and homes around the road. We don't have addresses (it just goes by landmarks) and you either live "up the road" or "down the road". Our house is down the road.
I have been living here since August 2012, with a month-to-month lease. The house itself is one of three that an American couple custom-built in a small cluster up from the beach here in West End. We are lucky enough to be living in the one they built for themselves! It is completely furnished from the king-sized beds down to the cutlery. I don't know the exact size but would guess that it is around 1200-1400 square feet. It is a two level home with a kitchen, living room, storage room, bedroom and bathroom on the first floor, and a master suite & ensuite that takes up the entire second floor. We have a large porch off the kitchen and living room, a deck off the master suite and another rooftop deck accessible from the master suite deck. We have lush, green, jungle scenery all the way around the house as well as ocean views from the rooftop deck. It is by far one of the nicest places I've seen in Roatan!
The house would be way too large for just me – I have three roommates who make living here a lot of fun. We are all dive instructors on the island. I share the master suite with my co-worker Kyle, and Marc & Ashley (of The No Deco Duo – http://www.thenodecoduo.blogspot.com) live in the downstairs room. We also inherited two kittens, Bramble and Tyrone, from a previous roommate, and Miss Callie is the homeowner's cat who stayed here when they went back to the States.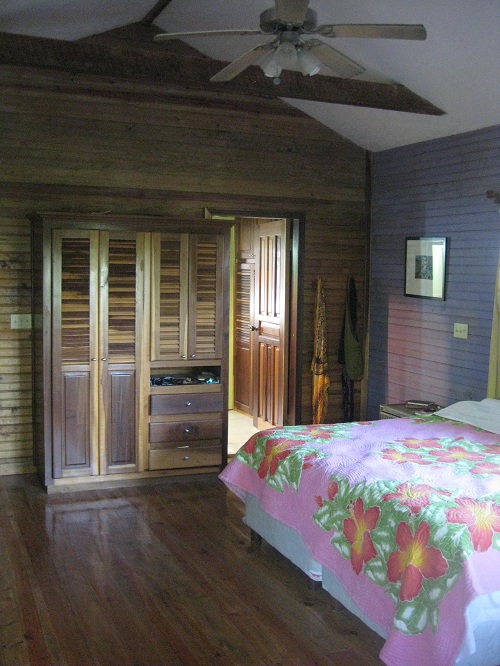 2. How did you find your house rental?
This was a stroke of luck on my part. I met a dive instructor here who was living in this house with her mom, and her mom had to go home to England. She was looking for someone to move in so that she could keep this place. I moved in, along with Kyle and a couple others, in August. In October they moved on to different countries, and Kyle & I stayed here and had Marc & Ashley move in.
3. How much did you pay and did you negotiate (price or terms)? What are your negotiating strategies when renting short-term accommodation?
Our rent was non-negotiable and is $700 USD per month plus electricity and water bills, which together normally come to around $200 USD per month. We have cable included as well as a washer and dryer to use. We had a month-to-month lease after I paid a $500 USD deposit. Our landlord is really friendly and easygoing so there wasn't much negotiating to do! Unfortunately with this sort of overlapping turnkey that I did with my friend who was in here before, we missed some important info from the landlord and I was unaware that the landlord had another renter from December 15th onwards. We just found out and are now on the hunt for a new place.
4. Did you try any strategies for finding a rental that didn't work e.g., you tried airbnb but the prices were too high.
In a place as small as West End, it can be difficult as a foreigner to find a place unless you know someone. Expensive vacation rentals abound online, but for someone living here it can be tricky – there's no newspaper classifieds or rental services here like you might find in larger centers. It's mostly by word of mouth, or a closed Facebook group for Roatan residents that serves as an online bulletin board.
5. Did you experience any unanticipated problems, either with your rental or the location? e.g., noisy roosters woke you up early everyday or bad bug bites?
One thing that I didn't even think of was that we don't have a oven! We have a nice ceramic stovetop on the counter, but no oven, and that has made cooking a challenge for us at times. Luckily no bugs in our house, but I miss out on enjoying our 3 decks due to the bugs outside…they leave my roommates alone, but I get eaten alive so I mostly stay inside. We also have been subject to thieves in the area twice now, although this isn't necessarily due to the rental itself or the location – West End has unfortunately has a high rate of break & enters, and the underfunded and understaffed police force have a hard time keeping up with it.
6. Now that you've done your rental, what would you do differently? What would you do the same? Would you recommend where you went as a good place to spend a month?
Differently: I would definitely find out if the landlord has promised the place to someone else in the upcoming months so that I didn't have to scramble to find a new place last-minute. In a place like this, there are no tenant rights like at home!
Same: it was nice to find a place through a friend who had lived here for 7 months already, so I basically knew what to expect with the house and the location.
For a month: ABSOLUTELY!! It would be an amazing place to spend a month. It's a lovely house in a great location – in the village but far enough away from the bars that you can still sleep at night. There is a neighboring complex with two pools as well that you can pay $50 USD/month for pool access. It's private but the other two houses are close enough that you can still get to know the neighbors. I would definitely recommend it!
7. What advice would you give to other travelers looking for a reasonably priced house or apartment in the same location?
Reasonably priced places are easy to find in West End, but they usually aren't much to look at. For some reason the difference between the $400-600/month mark makes an enormous difference here. Most places under $400 are pretty basic and rustic. Upwards of $600 can get you a nice place (usually 2+ bedrooms too). Just outside of West End is a neighborhood called Sandy Bay, and reasonably priced apartments are much more common there, however it's a $1.50 cab ride to and from West End where most of the shops and restaurants are. It's a lot quieter though. It depends on what you're looking for. In West End, I would recommend talking to as many locals as you can to try to find a place. They usually know someone who has a rental. West End is centered around diving, and the dive shop staff are often a good resource for knowing about apartment rentals since they have interns and staff coming and going. Make sure to check online as well, for any websites or Facebook groups that could have info as well.
8. Other than the rental we've focused on, if you've done house or apartment rentals in other places, what were some of the best ones? e.g., one month in the X neighborhood of X city for X price.
This was the first I've done, but I hope there will be more in my future!
Author Bio: Rika from Cubicle Throwdown (http://www.cubiclethrowdown.blogspot.com) is a 20something Canadian living her dream. She realized one day that life in a cubicle was not for her, and proceeded to sell everything she owned and moved to Roatan, Honduras to fulfill a dream of becoming a dive instructor and leaving the corporate grind behind. She is now working as a dive instructor and living the Caribbean island life to the fullest, while blogging about her adventures above and below water in a tiny beachside town.
Editors note: Dive instructor is obviously a great travel job. See this awesome mega list from Barefoot Nomad's about other options for travel jobs.