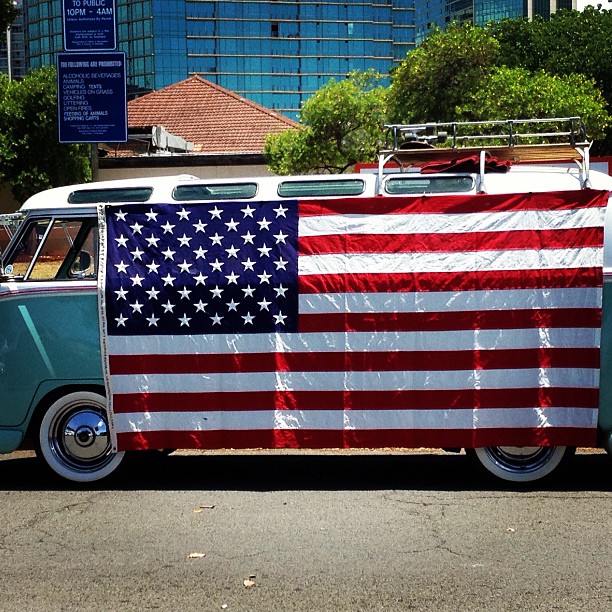 It's no secret that we love the USA. It's like 50 separate countries all in one. It's so massive that, on your first trip, you're going to need to be selective about what you want to see.
You could do a "taster" style trip and bounce around a ton of different cities for a couple of days each. This can be ok if you're mainly interested in finding out where you want to come back to.
However, another option to pretend America is like Europe just with states instead of countries. You wouldn't attempt to go to every country in Europe on one trip, would you?
My suggestion would be to either base yourself in California (check prices for flights to Los Angeles and San Francisco to see which is better value), or on the East Coast (check prices for flights to New York and Washington DC, they're only 4 hours drive/bus/train apart).
If you like nature or want to do a road trip, go with the West Coast option. If you're more interested in cities and history, then go with the East Coast.
Hire a car if you're doing the West Coast option. Don't hire one for the East Coast since the public transport is fantastic and parking is super expensive.
For a West Coast trip, you could include any of LA, San Diego, national parks like Yosemite or the Grand Canyon, the California Coast (eg Santa Barbara), Las Vegas, and of course San Francisco.
For the East Coast, you can get very cheap public transportation between Boston, NYC, Philly, and Washington DC.
Washington DC is great and hugely underrated. Also, a lot of the museums in DC are free. Even if you don't think you're particularly interested in American politics, it's pretty cool. Watch some VEEP or the West Wing to get in the spirit.
Wait until you're 25 or are travelling with someone who is at least 25, before you attempt a West Coast road trip. This is because there are big surcharges for car rental for drivers under 25. Also, the freeways and traffic in LA are pretty full on, so you'll want to have some experience driving before you tackle them, especially since it'll involve driving on the wrong side of the road, and learning their road rules such as "right on red." Note that the road rules vary from place to place, at the state level and sometimes at the city level. I remember being frustrated by the under 25 surcharges but I can now see that I'm a much more competent driver now than I was then.
Lots of people love San Francisco, but I don't particularly because the weather isn't very good. If you want to come to CA and use public transport to get around, then it is a better bet than LA, which is tough but not impossible to visit using public transport. The weather in LA is divine and the perfect pick me up if you need somewhere to go during winter. Las Vegas also tends to be sunny year round, however, it has much hotter summers and colder winters than LA.
Whatever you choose, you're almost guaranteed to have a great time!