We are spending this summer in New York and have just come to the end of our first month here. Now it's time to review our expenditure. We pride ourselves on being thrifty and seeking out good deals, so it'll be interesting to see how successful (or not!) we have been.
Total for the two of us over the 30 days was US$2763.28 which is $46.06 per person/day
Accommodation: US$1414.29
Transport: US$237
Activities: US$117.60
Food and Drink: US$905.39
Miscellaneous: US$89
Accommodation: US$23.57 per person/day
Transport: US$3.95 per person/day
Activities: US$1.96 per person/day
Food and Drink: US$15.09 per person/day
Miscellaneous: US$1.48 per person/day
New York is an expensive destination with accommodation being the biggest cost followed in no particular order by activities, local transport and food.
Accommodation:
We are subletting one month at a time and chose to spend our first month in Brooklyn. The main advantages of staying on the east side of the East River are:
– It is considerably cheaper than Manhattan
– You get to see more of the "real" New York and New Yorkers
We rented a lovely, roomy 1 bedroom apartment in Bed-Stuy for the same price as it would cost for a room in many a shared apartment on Manhattan.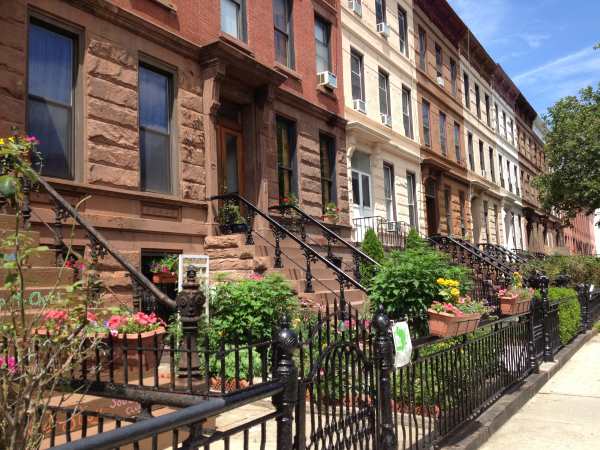 Many would say the disadvantage is the time it takes to commute by subway into Manhattan each day as that is where the majority of activities are. We go into Manhattan 1-2 times per day and it takes 20 mins each way to lower Manhattan and 35-40 to mid-town respectively. Kate doesn't mind the commute as she listens to pod-casts and also uses it as thinking time :-).
Our sublet was US$1650 for 35 days with a $250 deposit, which we have since got back as we returned the apartment in clean, mint condition. I have converted the figures to a 30 day period to reflect a typical month.
Activities:
Most of the activities we've done have been free or by donation. One of the things I'd looked forward to doing the most was biking in Central and Prospect Parks, so having the free use of a bike (included with our sublet) was awesome and saved me the cost of renting or buying. We won the online lottery to go to "Shakespeare in the Park" which is held each Summer in Central Park. I also attended free opera and orchestral concerts in NYC parks.
We save money on Broadway Shows by entering the Broadway lotteries and buying standing room only and rush tickets. Our standing room only tickets to "Pippen" only cost us US$39 each. Kate got a rush ticket to a Broadway play with Sigourney Weaver for US$38. We haven't won a Broadway lottery yet but we did win free lottery tickets to Shakespeare in the Park. We enjoy stand up comedy shows (most of them are free or $5). I went to a free one but did buy a beer so as not to look like a complete loser. Another one we both went to at the famous Upright Citizens' Brigade was $5 per ticket but we were given one free ticket by someone with too many.
I went to MoMA for free on "free Friday nights", paid a $10 donation (recommended $25!!) for the Met and a $3 for 1.25 hours at the Guggenheim (it's recommended donation on a Saturday night from 6-8 pm but you do get limited time because they start closing down at 7:30 pm). I paid a $5 donation when I went to the World Trade Center Memorial.
Food and Beverages
Kate and I save a lot of money by not eating out at restaurants and not drinking alcohol (though I did buy 1 beer at a free stand-up comedy show and I have been very tempted to buy wine from Trader Joe's Wine Shop which has some very cheap wine, but it's just not in our budget). We have the odd Falafel (from Taim – excellent) and Kate's main weakness is vegan cake from
LifeThyme. Nice vegan food is not very available in New Zealand so she splashes out on it most days here. We do most of our grocery shopping at Trader Joe's and Target where we have found the best value for money. We cook simple meals with tasty but inexpensive ingredients, and I have oatmeal for breakfast and make my own lunches. When we can't be bothered cooking we are very fond of Amy's Burritos. I like my fruit and would have 1-2 servings a day.

Shopping while queuing at Trader Joe's Union Square
Transport:
We bought a 30 day subway pass each for US$113. We took multiple subway rides each day (especially as we were based in Brooklyn) so it was more cost effective than buying individual rides. Our initial AirTrain tickets from JFK Airport to the subway were US$5 each. He didn't use any taxis. Kate brought her fold up bike to the US and I had free loan of a bike with the sublet.
Miscellaneous
We make do with one US SIM card which cost $50 for the month. Kate bought a book from the Strand Book Store for $10. We spent $20 on personal toiletries and $9 on toilet paper.