The Yarra River, Melbourne
Over the last 10 years I have regularly attended conferences in and around Melbourne, Australia with my best friend who is a local girl. Melbourne is a great conference destination so if you get an opportunity to attend one there I'd jump at the chance. There are so many things you can do during conference down times, and wonderful day trips you can take if you have a day or 2 spare when the conference is over.
After a busy conference day in Melbourne I like to rest my brain and go for a walk. My two favourite places to do this are the Fitzroy Gardens and Melbourne's Royal Botanic Gardens. I also like to stroll beside the Yarra River, either checking out the riverside cafes and restaurants at Southbank or a more often a relaxing walk along the river where it runs below the botanical gardens. If I feel like a dose of art another relaxing option is to go to the National Gallery of Victoria International (which has a wonderful international art collection) or the Ian Potter Centre: NGV Australia (dedicated to Australian and indigenous art), both in the centre of the city. I particularly like the colours and fascinating patterns of Aboriginal dot paintings.
Melbourne's cafe scene is fabulous and my favourite area to browse the shops and have a coffee is the cool neighbourhood of Fitzroy. Melbourne is famous for it's cuisine and although I have only tried a small fraction of it's restaurants I can certainly recommend the restaurants along Victoria St in North Richmond. I have had many a great and inexpensive meal there. I'm not a big shopper myself ( I find shopping for clothes and shoes stressful rather than enjoyable) but there's no doubt that the big department stores (Myer and David Jones) in down-town Melbourne, the boutique shops between Punt Rd and Chapel St in South Yarra, the groovy and grungy shops on Brunswick St in Fitzroy, as well as the direct outlet shops on Bridge Rd in Richmond make Melbourne a shopper's paradise. During my visits to Melbourne I've been very fortunate to be able to stay with my friend at her house in East Melbourne which is very central and within walking distance Fitzroy Gardens and the Richmond cafes.
Each year after the conference is over my friend and I go for a 1-3 day road trip out of Melbourne. As much as I love the city I also enjoy getting out into the countryside to some of Australia's natural beauty and wildlife.

Phillip Island

Phillip Island
I would recommend 1-2 days on nearby Phillip Island and watching the Penguin parade (where hundreds of penguins come ashore after a day's fishing) which is a delight.
I loved our 3 day road trip along the Great Ocean Road and would definitely like to do that again. We stayed the first night at Port Campbell and the second at Apollo Bay on the way back to Melbourne. On your road trip be sure to stop off at Bell's Beach and watch the boys and girls surfing like we did.

Great Ocean Road
Similarly I loved our 3 day trip to Wilson's Promontary, a national park with more spectacular coastal scenery where we did bush and beach walks. Another year we drove several hours north-west of Melbourne to the Grampians, an mountain range popular for bush walking and rock climbing. We visited there in Winter, several years after a devastating bush fire had burnt out 2/3 of the national park in 2006. The bush was regenerating well by then but there still wasn't much shelter from the sun. For that reason I would avoid visiting there in the Summer, but Spring would be amazing for the wild flowers in bloom. If you only have a day then I recommend driving just south of Melbourne to the beautiful Mornington Peninsula with it's seaside resort towns of Portsea and Sorrento. Another day or half-day option is to visit the Dandenong Ranges where you'll enjoy scenic drives and walks amongst the Mountain Ash trees. if you're a wine buff you might to spend a day wine tasting in the Yarra Valley to the east of Melbourne.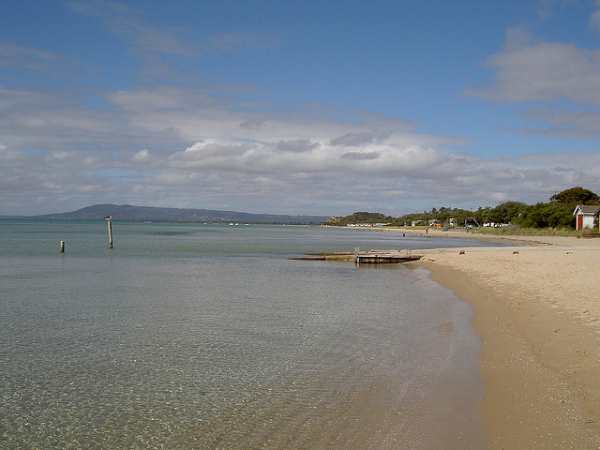 Mornington Peninsula

Wallaby, Phillip Island