Because we booked our flight to Playa del Carmen at the last minute we knew that finding accommodation at an acceptable price in mid November could be a challenge. The "high" season hits at the beginning of December and everything gets booked out. Fortunately we had the services of Elizabeth from www.rentingplayadelcarmen.com and she did a wonderful job of finding us 2 apartments to cover our 2.5 week stay.
The second apartment has been fantastic. Located on Calle 22 between Aves 25 and 30, it is only 1 block away from the DAC market, 2 blocks from Mega Supermarket and about 6 mins walk from Walwart, all on Ave 30. These shops have everything we need to prepare delicious Mexican meals. There is also no shortage of authentic local restaurants and street vendors if we don't feel like cooking. The apartment is about 15 mins walk from the beach which we haven't found onerous at all. It's probably as far as we would want to walk though.
We paid 6400 Pesos for 8 nights here which is US$493. That comes to US$61.63/per night and includes power, gas, everything. As of Dec 1st I think they charge US$100+/night for it.
For that we get a modern 2 bedroom apartment with a full kitchen, large living and dining room, laundry and a slightly excessive 3 bathrooms and 2 showers. It is on the 1st floor (2nd if you're from the US :-) and we have a lovely balcony of the living room so the apartment has good indoor outdoor flow, and we can dry our washing and bathing suits. We've been able to leave the ranch slider door open during the day without any mosquito problems. Rain and dusk attract mozzies so we close the door at those times.
We have been thrilled that there are NO mosquitoes at the beach too :-)
We have felt very comfortable and safe here. There is a key to get through the security gate of the apartment building and then a key for the apartment itself.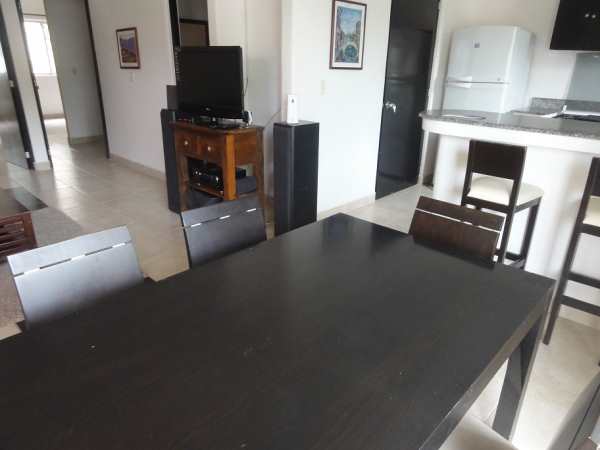 Our previous apartment was only 6 mins walk from the beach but 10 mins walk from DAC, Mega etc. On reflection, that apartment was a bit dark inside and had a problem with dampness as well as ants. We initially assumed the ant problem might be a general Playa thing but we haven't had any issues in our new apartment.
If you are looking for an apartment on the internet we would recommend NOT choosing one on the ground floor, for 2 reasons. Ground floor apartments all seem to have metal bars over the windows so you would feel like you were inside a lovely prison! Also we personally feel more secure when our apartment doesn't open straight out onto the the street.
There's no shortage of things to do in Playa del Carmen. Not as widely known as Cancun or Los Cabos, this small part of Mexico is a hidden gem that doesn't have too much foot traffic. Whether you're into nature, or night life, Playa del Carmen has whatever you need.
—
N.B I'm submitting this post to the "expat" themed blog carnival on Small Planet Studio.
This post was written in association with Seaside Mexico but all views expressed are my own.