Rowing at The Lake, Central Park
New York is a city that has something for everyone. You're sure to tick a few things off your "bucket list".
If you are here as a couple or in a family group you will want to do most things together, but there may be times when you'll want to do your own thing for a few hours. For example, a typical woman's idea of a good time may be to spend the day shopping on 5th Ave and in Century 21 but this would bore most guys to death. Some activities attract one gender more than the other and shopping tends to be one of these. Why not set the boys free for a few hours and keep everyone happy.
This got me thinking about activities that guys would enjoy in New York, either on their own or with their partner and/or family group. I've come up with a few ideas.
1. Cycling around Manhattan and especially Central Park is a lot of fun. New York has the new Citi Bike share scheme that makes exploring the city easy. It has hundreds of bike stations throughout Manhattan and Brooklyn where you can rent a bike for 30 mins at a time. A day pass gives you unlimited 30 min. rides for US$9.95 + tax. A 7 day pass is US$25 + tax. Overtime fees incur if you don't return the bike to a drop-off station within 30 mins: $4 if it is returned between 30-60 mins late and $13 if between 60-90 mins late. The only issue with Citi Bikes is that you have to supply your own bike helmet. It doesn't seem to be compulsory to wear a helmet here but I definitely would. There are a number of private bike rental companies too with Bike And Roll being the leading one. They supply you with a helmet and lock, and they have a range of bikes to choose from. They also run bike tours of Manhattan and Brooklyn. On the weekends in the Summer you can catch a free ferry to Governor's Island and rent a bike over there.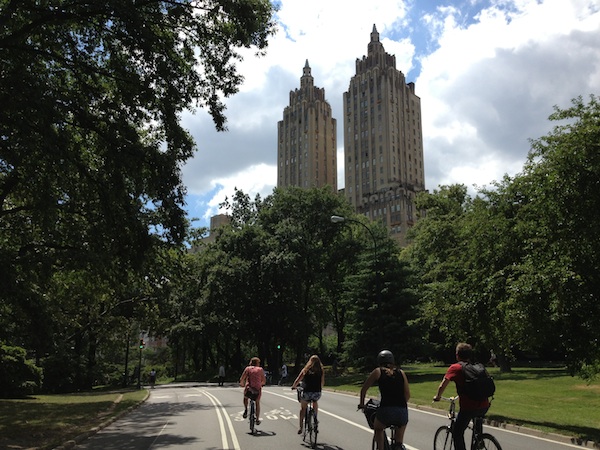 Cyclists in Central Park's upper west side
2. Walking or Cycling over Brooklyn Bridge is great exercise and you get awesome views of the Manhattan Skyline. I would also recommend returning to the Brooklyn Bridge Park (either walk over or catch the A or C subway to High St station) in the evening as the night lights of the Manhattan skyline are spectacular from there.
3. A visit to the Intrepid Sea, Air and Space Museum is a must for military, maritime and/or space buffs. The interactive museum is centered on the aircraft carrier Intrepid which served in WW2, Vietnam and the Cold War, and was a space recovery ship for NASA. The Intrepid Museum New York has an impressive collection of exhibits, the highlights being a British Concord, the Growler Submarine and the Space Shuttle Enterprise. There are also flight simulators you can experience. The museum is situated at Pier 86, off 12 Ave and 46th St.
4. Rent a row boat on The Lake in Central Park. From April to November each year you can rent a row boat from the Loeb Boathouse for $12/hour. I think the Lake is the prettiest part of Central Park. The row boats look like a lot of fun and the boys can show off their rowing skills.
Also check out kayaking on the Hudson and East Rivers at the New York City Downtown Boathouse (3 locations) and the Brooklyn Bridge Park Boathouse respectively. You can kayak for free at these places for 20-30 mins on weekends and some week nights in the summer. Check online for opening hours.

Rowing on The Lake, Central Park
5. The High Line in Chelsea is a cool place to visit. It is a park built on an abandoned section of elevated railway line that is 2.3 km long and runs from the Meat Packing District though Chelsea. Stroll along the High Line while admiring it's beautifully landscaped gardens and enjoy the great views of city life below. There are plenty of seats and wooden loungers to relax on along the way.

The High Line
6. How about a bit of stand up comedy for some evening entertainment. Check out whats on at the famous Upright Citizens Brigade (East Village and Chelsea locations). There are shows on every night and the prices range from free to $10/person. There is also a free comedy show every Sunday night at the Knitting Factory in Brooklyn. These shows are very popular so it's best to make a reservation online.
7. There are lots of museums and art galleries in NYC but the one that is sure to please everyone is the American Museum of Natural History at Central Park West. Who doesn't love dinosaurs, fossils and planets. The Planetarium Space Theatre is wonderful!
8. NYC has some great indoor rock climbing walls at the following clubs: the Chelsea Piers, Rock Health and Fitness, the Manhattan Plaza Health Club and the Aviator Sports and Events center. You can get a day pass and even lessons if you want.
9. Or, if the boys want to do something a bit crazy, why not sit in the middle of a high pressure fountain in the middle of Washington Square Park!! Actually, signs request that you don't do this but these lads did it anyway.