The Met
New York is generally an expensive place to visit but there are many brilliant free things you can do.
Here are some of our personal favourites.
Monday and 7 Days a Week
The Met
7 days a week
82 St and 5th Ave
You can go to the Met (Metropolitan Museum of Art) any day of the week.
The price of admission "recommended" at $25 for adults, $17 for 65+, $12 for students and free <12. I am a budget traveller and I can't afford to pay $25 for every museum and art gallery that I want to go to. I felt a little uncomfortable going up to the ticket counter with my $10 but the nice woman didn't bat an eyelid so it's good they aren't judgemental. It is a wonderful museum and you could spent days in there. I particularly loved the 19th century portrait paintings by John Singer Sargent and the current exhibition of photography from the American Civil War.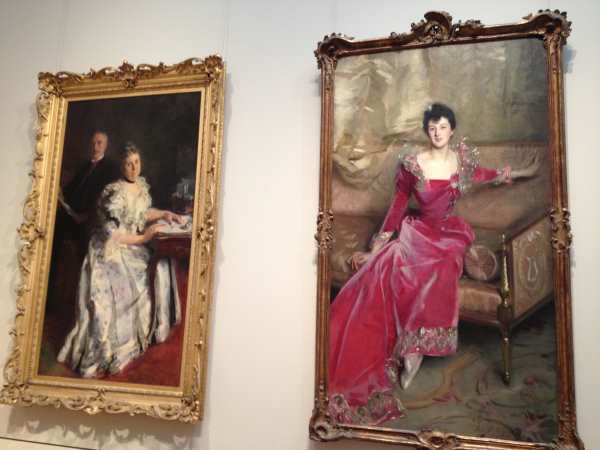 Portraits by John Singer Sargent
The Boxer from between 300-30 BC
Tuesday
Brooklyn Botanical Garden
3 Entrances: 150 Eastern Parkway; 455 Flatbush Avenue; 990 Washington Avenue,Brooklyn.
Free all day Tues
Summer 8am-6pm
Winter 8am-4:30pm

Cherry Orchard within Brooklyn Botanical Garden
Wednesday
The Met
and any of the "Always Free" things listed below.
Thursday
Broadway in Bryant Park
41 W 40th Street
Each Thursday at Noon, mid July to Mid August (July 11th-Aug 15th in 2013)
Performers from 4-5 Broadway musicals sing songs from their musical.
The Met
and any of the "Always Free" things listed below.
Friday
Brooklyn Botanical Garden
Free for Seniors (65+) on Fridays
3 Entrances: 150 Eastern Parkway; 455 Flatbush Avenue; 990 Washington Avenue,Brooklyn.
Summer 8am-6pm
Winter 8am-4:30pm
Museum of the Moving Image
Free 4-8pm Fridays
35th Ave, at 36th St, Astoria, Queens
MoMA (Museum of Modern Art)
11 W 53rd St,Manhattan
Free Entry 4-8pm Fridays.
Always popular but the queue moves quickly so don't let it put you off.
The Met
and any of the "Always Free" things listed below.
Saturday
Brooklyn Botanical Garden
Free entry between 10am-12noon
3 Entrances: 150 Eastern Parkway; 455 Flatbush Avenue; 990 Washington Avenue,Brooklyn
Japanese garden in Brooklyn Botanical Gardens
Governor's Island
10am-7pm
Free ferries Battery Maritime Building, corner of South and Whitehall Streets, Lower Manhattan or Brooklyn Bridge Park's Pier 6, Brooklyn
Can take bicycles
The Guggenheim Museum
1071 5th Ave, Manhattan
Pay what you wish Saturday 5:45pm-7:15pm (Museum closes 7:45)
The Met
and any of the "Always Free" things listed below.
Sunday
The Frick Collection
1 E 70th St, Manhattan
Pay what you wish 11am-1pm Sundays
Governor's Island
(see above Saturday for details)
The Met
and the "Always Free" things listed below.
Always Free
Central Park, Manhattan
It almost goes without saying!
Prospect Park, Brooklyn
Beautiful large park with established trees and lakes. Brilliant for cycling around and walks, picnics etc. Brooklyn's less flashy version of Central Park but bonus is less crowds too.
The High Line
A lovely park/walkway created from an abandoned elevated railway line. Great views of the city and Hudson River and beautifully landscaped with trees, shrubs and flowers.
Gansevoort Street to 30th St (currently), between 9th & 11th Aves, Chelsea.
New York Public Library
Another glorious old building. The "Rose" Reading Room is a must see.
Fifth Avenue at 42nd Street, Manahattan, next to Bryant Park.
There are many other branches in NYC but this is the famous one.
There are free tours at 11am and 2pm Monday to Saturday, 2pm Sunday but note the library is closed on Sundays in the Summer.
Bryant Park
A wonderful public space with many free out door activities. There is an outdoor reading room with books and magazines you can borrow. There are advertised free author talks and poetry readings each week. There is an outdoor board games area where you lend the games for free. In the Summer there are free outdoor movies 3-4 nights per month. See www.bryantpark.org for details.

Reading"room" Bryant Park

Games "room" Bryant Park
Bryant Park with New York Public Library at far end
African Burial Ground National Monument
Outdoor memorial open daily 9am-5pm.
Visitors' Center (recommended) Tues-Sat 10am-4 pm. Closed Sun-Mon.
Visitor Centre is at 290 Broadway with the burial site and memorial around the corner on Duane St.
The Staten Island Ferry
Get wonderful views of Manhattan and the Statue of Liberty on this ferry that goes back and forth across the harbour.
Eastern end of Battery Park, lower Manhattan.
New York City Public Pools
It gets pretty hot here in the summer and if you want to cool off, check out the local public pool in your neighbourhood. Obviously don't take all your valuables with you. You need to take a proper bathing suit and a lock for the locker. If you don't take a lock the Parks and Recreation officers wont let you in!
The 9/11 Memorial
Donation of $5-10 suggested.
Can save time in the queue by booking online ($2 service fee) or have a shorter queue by getting a same day ticket from the Preview Center on Vesey Street.
Visit 911memorial.org for more details.
Grand Central Station
Make sure to take a look at the great atrium which is a grand spectacle indeed. Grand Central Station turned 100 years old in 2013.
Walk the Brooklyn Bridge
Fantastic views of the Manhattan skyline from the bridges and Brooklyn Bridge Park, especially at night.
Free Kayaking on the Hudson River and at Brooklyn Bridge Park's Pier 1 and 2 on weekends between mid-May and mid-Oct
There is free Summer kayaking on the Hudson River at Piers 40 and 96, and at West 72nd St run by the New York City Downtown Boathouse people. It is first come, first serve and they provide life jackets. You only get 20 mins if it's busy. The Brooklyn Bridge Park Boathouse runs the free kayaking at Piers 1 and 2. It's the same deal except you get 30 minutes to kayak.
Free in Winter
Brooklyn Botanical Gardens on Weekdays Nov-Feb.
For free things to do on a day to day basis check www.theskint.com Through this website I heard about the free Lowdown Blues Festival and got to see BB King, Los Lobos, Los Lonely Boys and other great performers. I also heard about the free Metropolitan Opera concert in Central Park, and free stand-up comedy gigs. I check this site each day I am in NYC.