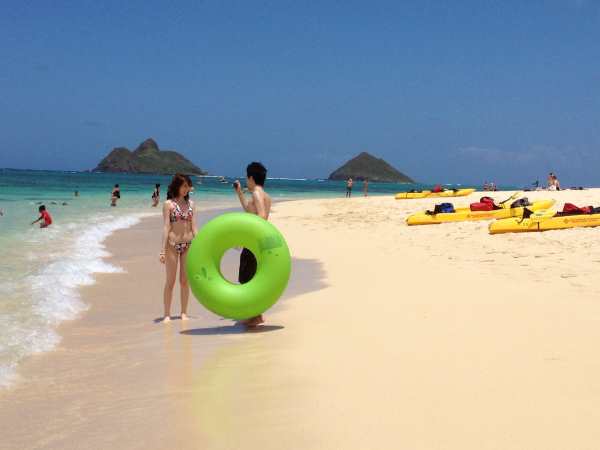 We've spent at least 6 weeks in Hawaii for each of the past two years. Needless to say, we love it!
Various people have asked me about family travel to Hawaii. Here are some of my tips. Note that this post is aimed at international travelers, rather than Americans visiting Hawaii.
– Oahu is a perfectly acceptable destination for a Hawaiian holiday. It has great beaches and you won't need to fork out for expensive domestic flights if you just stick to Oahu.
– The best time to visit is April to September. This is when the beaches are calmest. Fortuitously, this means it's a great destination for Southern Hemisphere travelers wanting to escape winter. There are plenty of safe swimming beaches for kids. Our top recommendation is Ala Moana Beach park. It's a short distance from Waikiki. Ideally stay in this area rather than Waikiki. However there are fewer options of places to stay near Ala Moana. The walk from Waikiki is around 30-40 minutes so a bit long to walk. However, taking the bus is another option. Children under 5 ride free on the Hawaii Bus System and for adults it's $2.50. Kids age 6-17 are half price. During this Summer season the temperature averages out at about 29C/84F so you can pack light except for something warm for the flight. When thinking about shoes for Hawaii think flip flops but also consider coral shoes if you are doing a lot of swimming or water sports. Hawaiian beaches have coral sand and you can get nasty cuts from the random large sharp pieces at some beaches.
– Rent a car for at least park of your stay. The bus is ok, but not awesome. You'll want to get out and explore the island. There are only a few main highways around Oahu, so you are not likely to have issues getting lost. Get a local SIM card and use Google Maps for navigation. It works well. Get a car rental deal that includes insurance, which means collision damage for your vehicle plus liability protection for damage to other people or vehicles. This is very expensive if you buy it at the rental counter, so make sure you book a rate that includes it. This will usually mean you should NOT attempt to book through US based websites as they won't typically have an option that automatically includes the insurance and will quote you high rates for adding on the insurance.
– You may want to only book a car for part of your stay since hotels usually charge high fees for parking. We refuse to pay for hotel parking which means hunting around for a free park in the surrounding streets which isn't easy. We often end up parking 4-7 mins walk from the hotel.
– Look for "kids eat free" and other kids' meal deals – there's a list here.
– Expect to pay a lot for a family size vacation rental. Lots of the apartments in Hawaii are studios. We found it cost prohibitive to even get a 1 bedroom apartment.
– If you're looking to stock up on healthy foods, try Down to Earth. It's a bit pricey but so is everything in Hawaii. The quality is very high. There is a small supermarket called "The Food Pantry" in Waikiki itself. Go to Walmart if you need sunscreen, a cooler or that type of thing.
– Check the price of packages that include airfare + hotel, to see if you can get something cheaper than booking separately. By researching online you can take your time to consider your options.