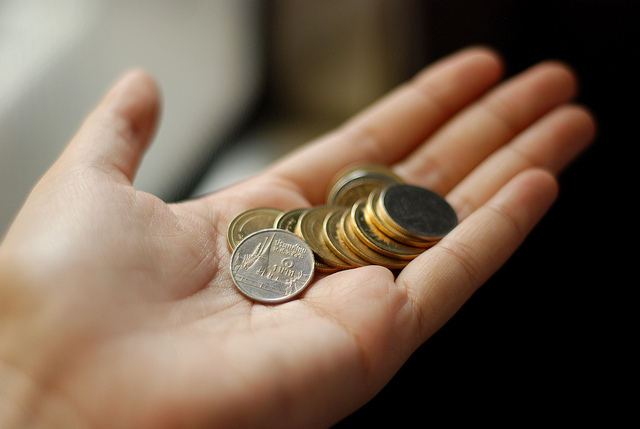 I use this tip a lot when I'm researching travel online.
If you type, for example
100 EUR to USD
into any regular, plain old Google search box, it will calculate the currency conversion for you. In fact if you are converting to USD, all you need to do is type 100 EUR.
You need to type the currency code in UPPERCASE.

Here is a list of currency codes if you're not sure of the code for wherever you're traveling
AED United Arab Emirates Dirham
ARS Argentine Peso
AUD Australian Dollars
BGN Bulgarian Lev
BOB Bolivian Boliviano
BRL Brazilian Real
CAD Canadian Dollars
CHF Swiss Francs
CLP Chilean Peso
CNY Yuan Renminbi
COP Colombian Peso
CZK Czech Koruna
DKK Denmark Kroner
EEK Estonian Kroon
EGP Egyptian Pound
EUR Euros
GBP British Pounds Sterling
HKD Hong Kong Dollars
HRK Croatian Kuna
HUF Hungarian Forint
IDR Indonesian Rupiah
ILS Israeli Shekel
INR Indian Rupee
JPY Japanese Yen
KRW South Korean Won
LTL Lithuanian Litas
MAD Moroccan Dirham
MXN Mexico Peso
MYR Malaysian Ringgit
NOK Norway Kroner
NZD New Zealand Dollars
PEN Peruvian Nuevo Sol
PHP Philippine Peso
PKR Pakistan Rupee
PLN Polish New Zloty
RON New Romanian Leu
RSD Serbian Dinar
RUB Russian Rouble
SAR Saudi Riyal
SEK Sweden Kronor
SGD Singapore Dollars
SKK Slovak Koruna
THB Thai Baht
TRY New Turkish Lira
TWD New Taiwan Dollar
UAH Ukrainian Hryvnia
USD US Dollars
VEF Venezuela Bolivar Fuerte
VND Vietnamese Dong
ZAR South African Rand
Before You Travel
Lets say you're traveling to Thailand,
Memorize what 1, 10, and 100 THB are in your currency
e.g.
100 THB = $3.10
10 THB = 31c
1 THB = 3.1c
Image by Saranya Chawanrattanasa under Creative Commons license