Whangapoua Beach
Back in New Zealand for Christmas and the New Year I had the good luck to be invited to a friend's "bach" (New Zealand holiday home – traditionally a small and very simple abode, but these days increasingly large and luxurious) in early January. The bach is situated in Whangapoua (pronounced "fongapoa") on NZ's beautiful Coromandel Peninsula. The Coromandel is a Summer holiday mecca for the people of Auckland and Hamilton and attracts many thousands of holidaymakers over December-January period.

Southern end of Whangapoua Beach
I had not been to Whangapoua before and I have wowed by it's beauty. It certainly is no a "one show pony". At the northern end of it's beautiful beach is a safe lagoon where families can kayak at high tide. Across the lagoon and around the point is one of New Zealand's best beaches, New Chum's Beach.

Modern bach on sand dunes, Whangapoua Beach

Northern end of Whangapoua Beach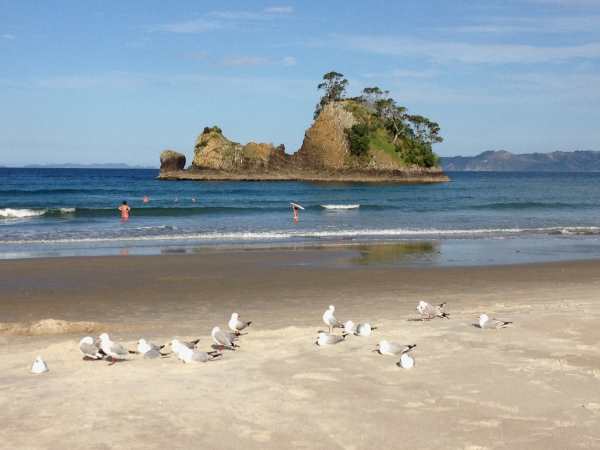 Small Island just off Whangapoua Beach

Large Pohutukawa Trees at southern end of Whangapoua Beach
Around the point at the southern end is Whangapoua Harbour and Estuary. The estuary is a breeding ground for the New Zealand Dotterel and Oyster Catchers which you can see close up. We collected fresh mussels off the rocks on the point and enjoyed them for dinner. We also went searching for shellfish (Pippies)in the estuary at low tide. The sand was thick with thousands of Pippies, however they were all too small to harvest. We can only assume that this is the result of them being over-fished.

Whangapoua Harbour/Estuary with Coromandel Ranges in the distance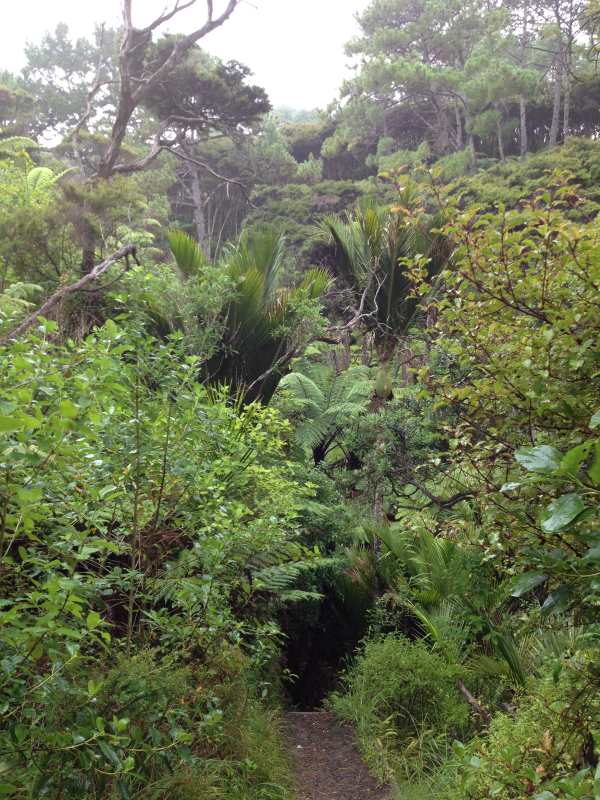 Short walk through native bush to Whangapoua Harbour/Estuary

Whangapoua Estuary

Whangapoua Harbour/Estuary with Oystercatcher in foreground
Fishing and diving are popular pastimes on the Coromandel. One evening friends brought over fresh Cod, Snapper, Kahawai (a NZ fish) and Paua (a NZ shellfish and delicacy) they had caught that afternoon! Delicious!
When the wind conditions are right Whangapoua Beach is great for surfing and kite surfing too.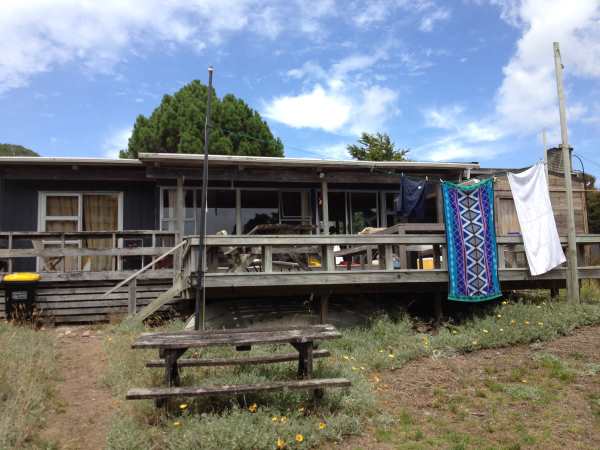 A Kiwi Bach
There is nothing nicer than taking an early morning or evening stroll along Whangapoua Beach. The New Zealand sun is ferocious. I got a little burnt on a walk between 8-9 am on a sunny morning, so it is essential that holidaymakers put on suntan lotion.
I really did want to go for a few swims but the water was just too cold for me. On my second attempt I managed to stay in for 1 minute! I'm a Kiwi and when I was young I used to happily swim in New Zealand's frigid waters like my fellow, hardy countrymen and women. With my travels to Malaysia, Thailand, Hawaii and Mexico I have obviously got soft by swimming in warmer waters. My friends were made of tougher stuff and would swim for up to 15 minutes :-)