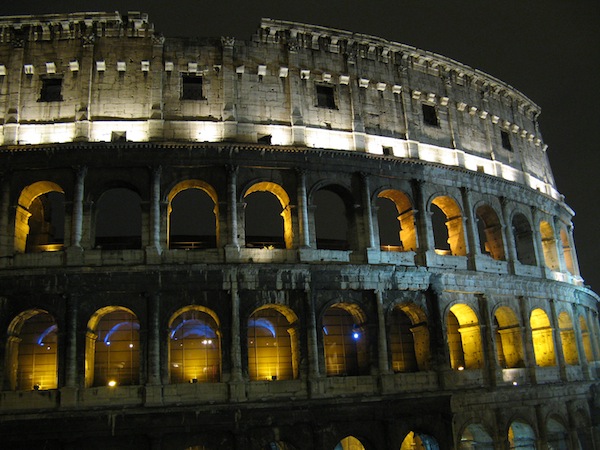 While most tourists choose to visit Rome in the during the Summer, Winter is also a lovely season to travel there.
Christmas is a particularly festive and exciting time to visit Rome, with the city offering a wide variety of Christmas-themed activities only available at this time of year. A Roman holiday during Christmas and New Year will require a little bit of forward planning and on-line research to check the visiting hours of particular attractions over the holiday period. Most attractions like the Vatican Museums are closed on Christmas Day, Boxing Day (December 25th and 26th), and also New Years Day (January 1st).
Italians are obsessed with tradition of the Christmas nativity and every church has a nativity scene. Most are displayed between December 8th and January 6th but the life size nativity scene at St Peter's Square at the Vatican is not unveiled until Christmas Eve. The best places to view extensive and elaborate nativity scenes are at the Piazza del Popolo, the Piazza Euclide, the Basilica di Santa Maria in Trastevere, the Bisilica di Santa Maria in Ara coeli al Campidoglio and the Basilica of Santi Cosma e Damiano (by the main entrance to the Roman Forum).
Continuing the nativity theme you could visit the Museo del Presepio (Nativity Museum) which is dedicated to preserving the tradition of the nativity scene, and has over 3000 pieces depicting the nativity, made from a wide variety of materials. It is open on weekdays between Christmas and Jan 6th, and is found within Church of Saints Quirico and Giulitta at Via Tor de'Coni. This museum is still relatively unknown amongst most tourists so you shouldn't have any problems with large crowds.
The Pope takes midnight mass inside St Peter's Basilica on Christmas Eve, and delivers his Christmas message from a window in his apartment above the square at noon on Christmas Day. It would be almost impossible to book tickets to the midnight mass in the basilica, even in advance, but you can take part and enjoy the atmosphere with thousands of others in the square where large video screens and sound systems are set up. Of course there are be hundreds of midnight masses held across the city that you could attend instead. If you prefer a service of a different denomination there is the Anglican All Saints' Church which holds Christmas services in English, St. Andrews Presbyterian Church of Scotland, the Methodist Church at Ponte Sant'Angelo, and the American Episcopal Church of St. Paul's Within the Walls among many others.
If you're visiting Rome in Winter you'll want to pack for the weather conditions and choose accommodation close to the underground so you can get around easily and with minimal exposure to the elements. The average daily temperature in December is 13 degrees C (55 degrees F) but it can drop down to 4 degrees C ( 39 degrees F). Over December and January, there are still 9-10 hours of daylight each day and an average of 4 hours of sunshine – a big improvement on UK winter which average 1 hour of sunshine per day.
A fun winter activity is ice skating, especially if you are traveling with children. There are a number of skating rinks in Rome including ones at Re di Roma, Tor di Quinto, and Villa Gordiani but the most famous is the outdoor Castel Sant'Angelo rink, located near the castle which is it's namesake. It is conveniently situated next to major tourist attractions, and is open 10 am to midnight most days.
Another popular place to visit is the Christmas Market at the Piazza Navona, one of Rome's most beautiful squares. During the holiday season, the area is filled with stalls selling food, sweets, gifts and decorations, and it has a real carnival atmosphere. The Christmas Market also has a life size nativity scene. Look out too for the many other smaller Christmas markets scattered across the city. For vegan food options, check out our Rome for Vegans post.