This is an vegan interview series in which I ask vegans who live in Europe to give us both (1) vegan travel tips, and (2) all the local insider info that a vegan traveler would need for visiting or moving to their city/country.

[photo: WaiKikaMooKau Vegan Breakfast, Brighton, UK]
1. Tell us about your blog, who you are, and your travel style?
Hi! I'm Jojo and I blog at veganinbrighton.blogspot.com. I blog about food both in my city
and everywhere I travel to. I also run Operation Icing, my not-for-profit vegan bakery, from
my home to raise money for animal charities.
I don't know if I have a travel style as such, I think I'm quite an adaptable traveller. I enjoy
traveling with just a backpack, staying in hostels or on someones couch, but I'm equally
comfortable in a nice hotel, villa or apartment. My husband recently got over his fear of
flying so we're traveling a lot at the moment – we have some serious catching up to do.
2. Of the trips you've done in Europe, what was your favorite city for vegan food?
Wow, that's a hard one! Europe is so varied and I've eaten at so many great places. I
thiiiink I'd have to say Barcelona although Berlin and Vienna are close runners up. There's
so much variation in Barcelona, you can get everything from brilliantly greasy fried food to
wonderfully healthy and delicious salads as well as everything in between.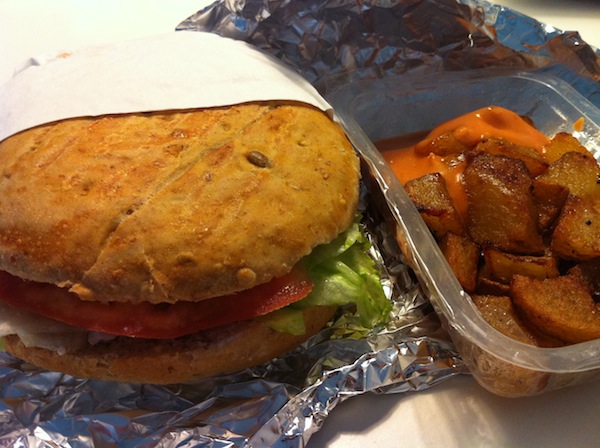 [photo: fried deliciousness from Gopal – from Jojo's recent trip to Barcelona!]
Another great plus for Barcelona is that the prices are super reasonable, everywhere I ate
on my trip seemed really cheap and so many places had wonderful meal deals where you
could get three courses, bread and a beer for around €9!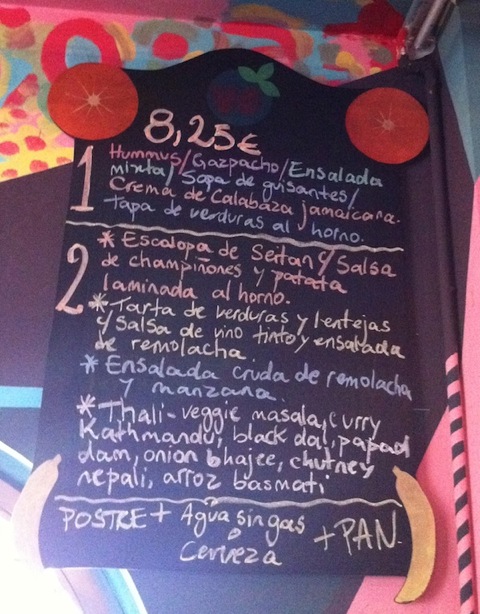 [photo: cheap set menu]
I recently wrote a three part guide to where to eat in Barcelona on my blog and a few of my
favourites were Gopal, Juicy Jones & Cat Bar. Barcelona also has some of the best vegan
desserts I've ever eaten, beautiful cakes and delicious donuts!
3. What's the best vegan cake or desert you've ever eaten?
Yet another toughie! Can I do a top three? In no particular order…
Lujuria Vegana cakes from Gopal in Barcelona. Their cakes were off the hook!

[photo: Lujuria Vegana Chocolate Cake]
Lemon Meringue Pie from Veggie Galaxy in Cambridge, MA. It was just perfect, lemon
meringue pie was my favourite pre-vegan dessert and this was spot on. I ate three huge
slices in about a day & a half.
The Chocolate Brownie from the Capital City Bakery food cart in Austin, TX. I've been
searching for the perfect brownie for ages & this is it. Everything Kristen makes is amazing
and Austin is a must visit destination for vegans.

[photo: Capital City Bakery Brownie & Cupcake]
4. If US vegans are coming to England and have access to cooking facilities, which
prepared foods would you recommend they try e.g., awesome vegan cheese, vegan
sausages etc.
There are so many great products in the UK. Vegusto's cheeses are becoming more
widely available and I'd go as far as to say that they're a must eat. It's perfect on crackers
and you only need a small amount to make a really flavorful cheese sauce. My favouite is
their No-Moo Piquant.
I also think that Redwood Foods have come a long way with their mock meat products
recently. Their mock duck and fishless fish steaks are the two products I keep coming back
to, they're so great. If you get the chance to visit Brighton you must eat at Moshimo where
you can get a Vegan Kamo Duck Teriyaki made with the Redwood mock duck, it's
delicious!
5. If a vegan is relocating to the UK, how do you recommend keeping food costs down?
e.g., where do you buy your fruit and veg, do you order any vegan-specific items from
online stores?
I might not be the right person to ask this question to, I'm terrible at sticking to my monthly
food budget! I think the usual money saving tips that are relevant in the US apply here too,
dried beans, cheap grains, veggies, keep it simple. It's easy to get carried away with
pricier meat and cheese subs! I split my food shopping between my local food co-op and a
couple of supermarkets. I don't order much online apart from Vital Wheat Gluten from
veganstore and Clif bars from Iherb whose shipping rates to the UK are really reasonable
if you keep the weight down. I find the lack of bulk buying options and farmers markets in
the UK quite sad though. Farmers markets definitely exist but they're more rare here than
in the US, I dream of visiting a Californian farmers market one day.
6. What's your favorite vegan dish at a Brighton restaurant (doesn't need to be fancy at all. Could even be takeout.)
If you're visiting Brighton you have to get a Full English Breakfast somewhere. Every
Brighton vegan has a different favourite and mine can be found at Infinity Cafe or
WaiKikaMooKau (pictured top of article).

[photo: Infinity Cafe Breakfast]
I also love both Terre a Terre and Moshimo for slightly fancier dining and Boho Gelato's
inventively flavored sorbets are not to be missed.
Jojo's Bio:
Twitter @veganinbrighton
Blog www.veganinbrighton.blogspot.com
Not-for-profit Cupcakes www.operationicing.co.uk
Want to be interviewed?
If you a vegan and you live outside the US, we'd love to have you participate in this series. Email: 30traveler(at)30traveler.com