My favorite way to feel like I'm traveling when I'm stuck at home is to go to the Asian supermarket on a weekend afternoon.
I usually come home with something new to try, plus my usual basket of vegan fresh spring roll ingredients. Here's my recipe.
The Best Vegan Spring Rolls with Easy Pickled Daikon and Carrot and Spicy Peanut Sauce
Easy Pickled Daikon and Carrot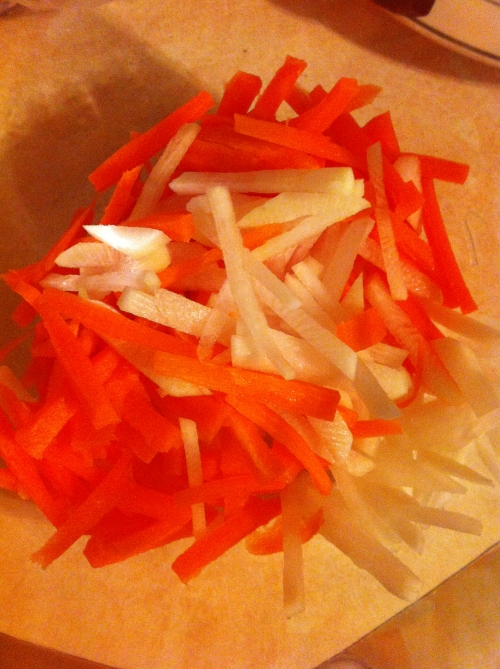 This recipe is adapted from the NYT.
– 1 1/2 Carrots
– Same volume of Daikon (often just called Raddish at Asian Supermarkets)
Cut both of above into matchsticks. Use whatever ratio you like. The 1:1 ratio above is what I like.
Add 1/2 tsp of salt and 1 tsp of sugar to the matchsticks. Knead for 3 minutes. Juice will come out and the volume of the vegies will reduce by about 1/3. Rinse and drain. This keeps the daikon and carrots crisp.
In another bowl, mix together
– 1 cup of slightly warm water,
– 1/2 cup of white sugar. Stir until the sugar dissolves completely.
– Add 1 and 1/4 cups of rice vinegar.
Add the daikon and carrots to the pickling mixture. Let it pickle for at least one hour before using. Will keep for several weeks in the fridge.
The Vegan Spicy Peanut Dipping Sauce

– Finely chop a couple of cloves of garlic and
– a tiny bit of fresh ginger
Add
– 2 T tamari/soy sauce (reduced salt if you don't like your sauce to be very salty)
– 2-3 tsp of white sugar
– 4-5 T of rice vinegar
Stir to dissolve the sugar.
Add
– 1 big round tsp of peanut butter
– 1/2 tsp of crushed chili from a jar
Use the back of a spoon to break up the peanut butter.
Assembling the Fresh Spring Rolls
– Pre fried tofu
– Red capsicum, sliced
– Spring onion, sliced
– Mung/Green Bean Sprouts
– Cilantro
– Packet of rice paper wrappers.
To assemble, dip each wrappers into warm water for 30 seconds. They will get soft. Then fill with your pickled daikon/carrots and other ingredients. Drizzle with some of the spicy peanut sauce.
Delicious! I'm lazing (and hungry) so I just pile them high. I don't put rice noodles inside because I prefer just tofu and vegies.