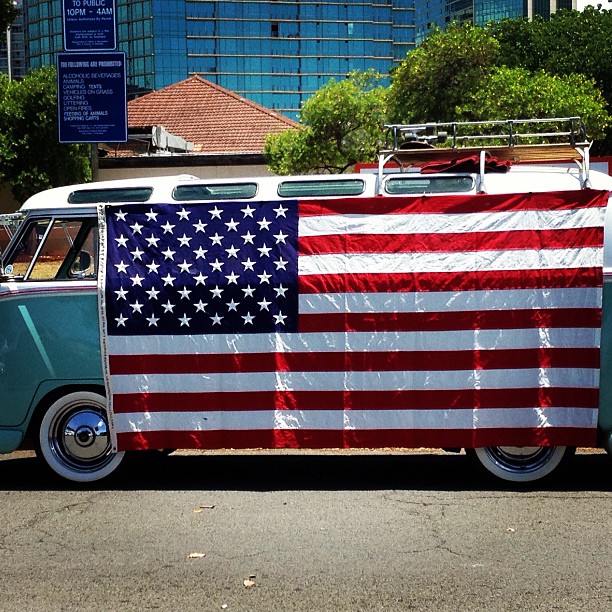 1. Get your own GPS.
It's better to buy your own GPS rather than get talked into one at a per day rate the rental counter. If you're arriving in the US from abroad, order on Amazon and have it sent to your hotel for your arrival. When you put you address into the shipping info, add the dates of your stay to your address info so the hotel know to hold it for you.
2. Don't hit the road straight away.
Speaking of your arrival, don't start your road trip straight from the airport. Give yourself time to recover from jetlag before you attempt to drive on a highway!
You might pick up your car straight away but stay near the airport your first night so you don't have to do too much driving just after you've stepped off the plane. This especially applies if you take sleeping pills or anti-anxiety meds for flying.
3. Get a small cooler.
Get a small cooler. Lots of places will give you ice in the US, and often motels will have an ice machine in the corridor. Having a small cooler will save you money and allow you to eat healthier. You'll be able to keep things like hummus and drinks cool, not have to throw away as much food, and you'll be able to avoid high calorie roadside junk.
Think ahead to what some nice "cooler" meals might be. Bring a few basic bowls and plates (just plastic will do). Alternatively, you can just pick up a couple of cheapies when you're passing a Target or Wal-mart. I don't typically bring cutlery as I just reuse plastic stuff that you'll get given whenever you order food in the US.
To prevent issues from melting ice, double bag your ice in two plastic bags before putting it in your cooler. You will never be sort of plastic bags in the US. They love double bagging everything and sometimes it's hard to say "No bags thanks" in time before they've already done it.
4. Get a US Sim Card.
You can get a SIM card for your phone reasonably easily in the US. I use Straight Talk which is from Wal-Mart.
This will save you time and money. For example, you'll be able to Google for coupon codes and make online reservations on the fly, and not have to pay walkup rates for motels.
5. Read your rental policy and your travel insurance policy.
Make sure you know the ins and outs of your rental policy. Before you purchase make sure there aren't hidden extras like having to buy a tank of fuel from the rental company at the outside of the rental. UK based websites usually offer the best deals for non-US drivers because, unlike the US websites, their rates typically include insurance. You're usually still hiring from one of the major car hire companies but getting a cheaper rate than booking direct, often MUCH cheaper.
Don't get sucked in to buying extra insurance at the rental counter that your travel insurance already covers you for.
6. Familiarize yourself with US hotel chains and using Priceline.
My strategy is that generally I'll either stay at Motel 6, a private room in a hostel, or use Priceline to splurge on a nice hotel at usually cheaper than half price.
Motel 6 is a budget motel chain that I tend to prefer over the other budget motel chains e.g., Econolodge, Days Inn. If you're familiar with the names and which chains you tend to like, you can check their websites to see if they have a location near where you want to be.
Since hostels tend to be centrally located, many of these won't have free / low cost parking. Some might e.g., the Hosteling International in Hawaii as parking for $5 a day. I mostly stay in HI hostels in the US as I find them more reliable and more suitable for non-party-people.
Here's the link to download our become a Priceline ninja tutorial video. Be careful with Priceline if you're traveling with a car as parking fees at nice hotels will tend to be astronomical. Make sure you're going to have a street parking option.