Soyatoo – Vegan Whipped Cream in a Can!
OMG this stuff is delicious. When I went vegan, I didn't really think about missing cream, but it's really the only thing I've been missing.
Make sure you follow the directions and leave it out of the fridge before attempting to squeeze it. The can says leave it out for 10-15 mins but I recommend longer, say 30 mins.
I ruined one can by using up all the propellant but trying to squeeze it straight from the fridge. Oops!
Chocolate Flavor Coconut Milk Chocolate Ice Cream (e.g., Trader Joes Chocolate, or Luna & Larry's Chocolate Hazelnut Fudge)
Vanilla coconut milk ice cream still has a really strong coconut flavor, and I'm not convinced about coconut and vanilla as a flavor combination for ice-cream.
I think the fruity flavor of chocolate goes better with the coconut flavor. The chocolate is a strong enough flavor that the coconut is the secondary flavor and adds a nice extra flavor note, whereas with the vanilla ice-cream, the coconut flavor dominates.
I'm not generally a chocolate ice-cream fan but this stuff is great.
Almond and soy milk ice-creams tend to be excessively icy and too sweet (and I almost ever think anything is too sweet).
Daiya – Vegan Cheese
I didn't realize how good Daiya is until I came back to the US after months of eating Cheezly in NZ. Although Daiya is famous for being a vegan cheese that melts like regular cheese, I don't like it melted. I like it on tacos etc un-melted.
I've only been here 2 weeks and I've eaten 3 packets of Daiya (either the cheddar shreds or the mozzarella shreds – both delish!).
Vegan Queso
If you've never heard of Queso, it's like a spicy cheesy sauce for Mexican food. Great for nachos!
Food for Lovers make an all vegan version.
Vegenaise
It's mayo but vegan, and it's delicious! Perfect for Vietnamese style sandwiches with pickled daikon and carrot.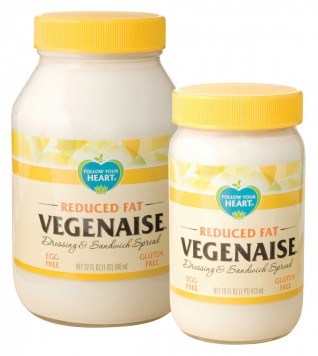 Vegans – What have I forgotten that would make your list?